Mission Viejo/Saddleback Valley Branch –
Women of the Year 2021:
Karen Dennis & Marcia Milchiker
At our Saturday, June 8, 2019, Mission Viejo/Saddleback Valley Scholarship Luncheon five nominees to win the Women of the Year recognition were taken into consideration, and our lovely, patient, hard-working friend: Karen Dennis was unanimously elected. Thank you words were publicly expressed by many branch members for her incredible contributions: updating our bylaws, organizational skills, Gourmet group, promotion of club activities, membership development, marketing skills, etc.

If you have not attended an Interest Group yet, think about joining one in the future.
The groups are meant as a means to get to know other AAUW MV/SV members in a small group setting. Many lifetime friendships have been formed by attending an interest group. Rachel Maus, who leads the Lunch Bunch, encourages new members to join the group whenever they can. Not everyone can attend on a regular basis. Some groups, such as AM Books, would prefer more regular attendance. Check out the Calendar to see when and where the group is meeting and call the contact to tell her you are interested in attending.

Interest Group Contacts: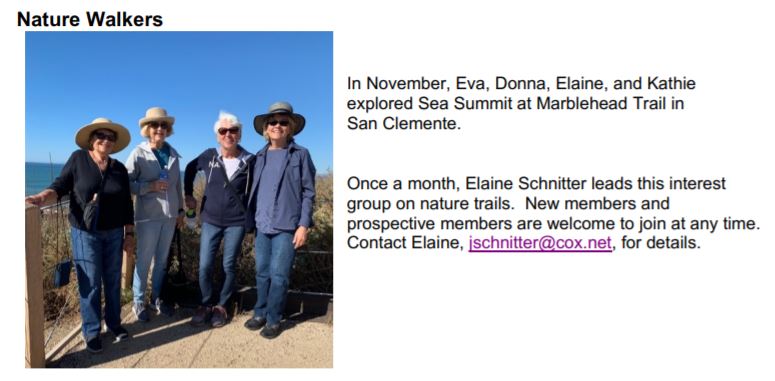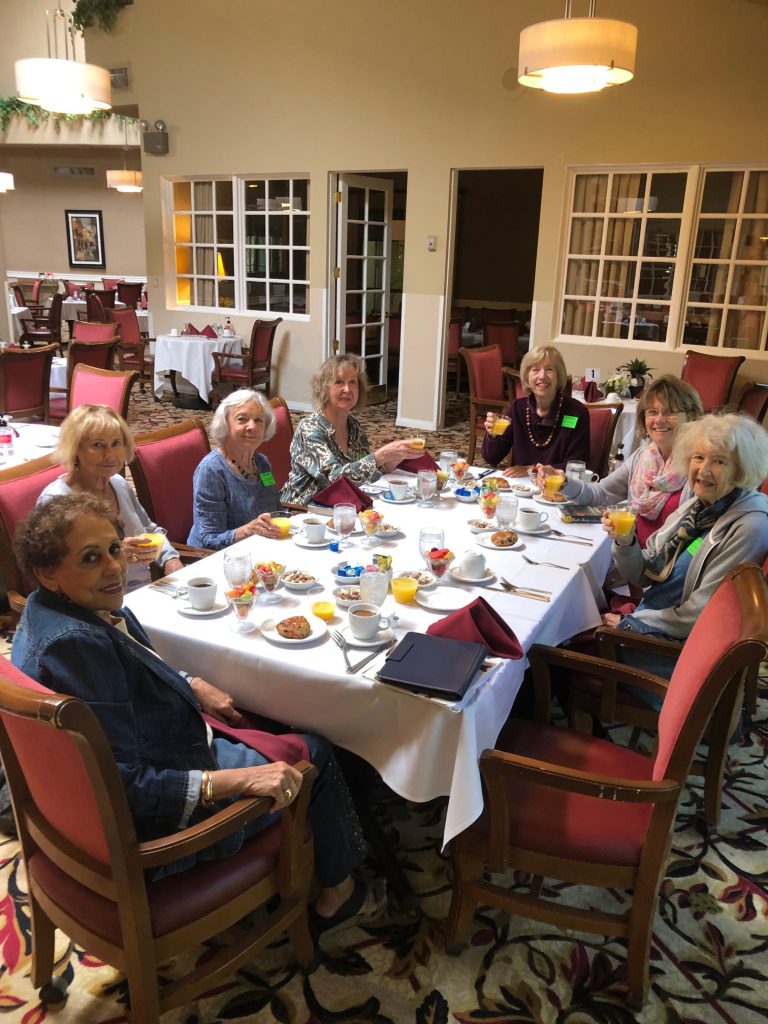 Book Club Humor: Adapted from Julie Vick—Real Simple Magazine, July 2019 
Thank you for Calling the Book Club Helpline. We can help you resolve all your book club emergencies. Please select from the following options. 
• 

lf you are the only one in the book club who read the book for the 4

th 

meeting in a row, please press #1 now. 
• 

If it's Jessica's turn to choose and she wants to read Fifty Shades of Grey again to "look for more symbolism," press #2 now. 
• 

To find a book club with less complicated snack standards, please press #3 now. 
• 

For tips on how to steer back the conversation from Ellen's latest life drama, please press #4 now. 
• 

If you always read the book but life got chaotic and you just need a really quick explanation of what happens at the very end, just this one time, please, please press #5 now 
• 

If you need a book selection that's not too political, too literary, too mainstream, or has enough "symbolism" to keep Jessica happy, and can easily be found at the library, please press #6 now 
• 

If everyone hated the book you selected, please press #7 now to be connected with some members of other book clubs who actually liked the book. 

Greetings, AAUW MVSV friends and Moviegoer buddies,
You are all invited to join us for our next Moviegoers interest group, this Sunday evening.
For further details, contact Elaine Schnitter, Chair of Movie Goers, jschnitter@cox.net.


Lunch Bunch at Delizie Ristorante in Mission Viejo (May 2022)…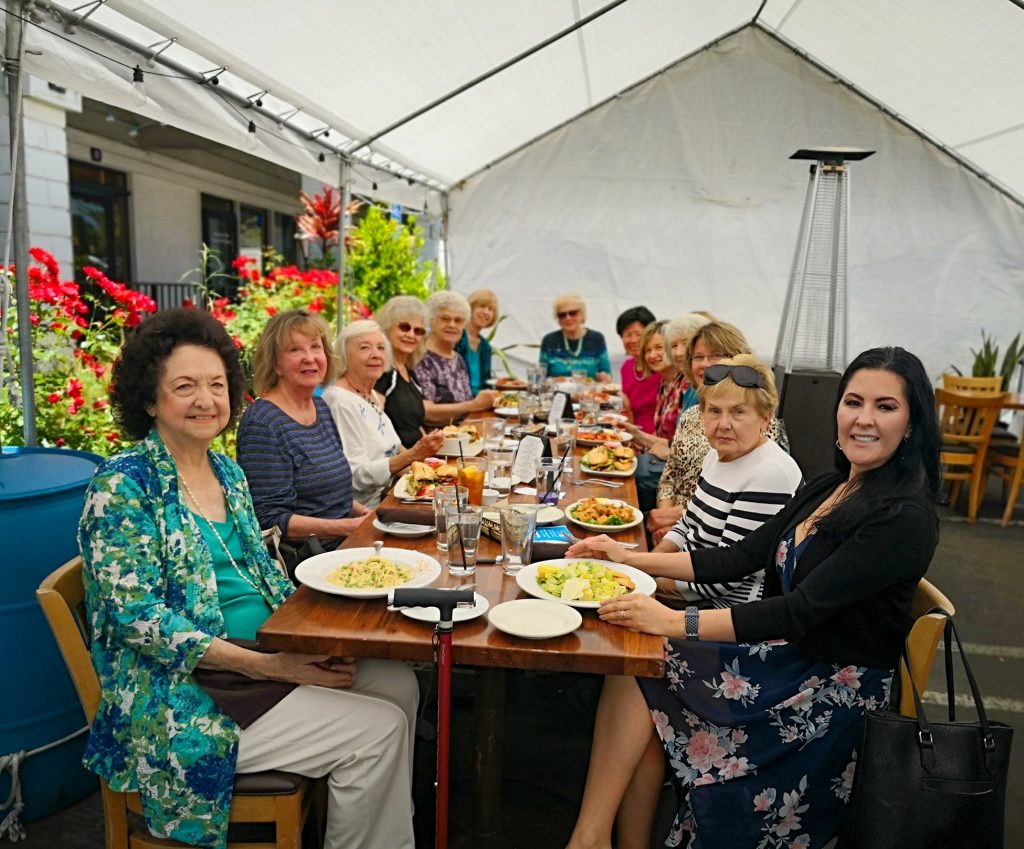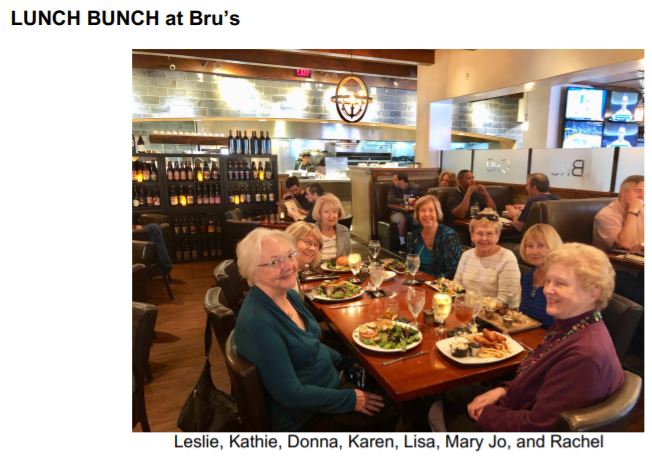 MEMBERSHIP MATTERS
We are actively recruiting new members to the AAUW Mission Viejo/Saddleback Valley branch.
If a new member joins at an event, such as the December Holiday Dinner that has an emphasis on scholarships, there is a reduction of $29.50 in her first year's dues.
To be eligible, she must pay her dues at the event itself. This SHAPE THE FUTURE special is for first-time members or former members whose memberships have lapsed for two or more years.
Please talk to friends and get them to join our fun group of women committed to making a difference in
the lives of women and girls.
For more information, please contact Martha Uriarte, Membership Chair:

marthauriarteusa@hotmail.com