Mission:  Advancing gender equity for women and girls through research, education, and advocacy.
Value Promise: By joining AAUW, you belong to a community that breaks through educational and economic barriers so that all women and girls have a fair chance.
Vision Statement: AAUW empowers all women and girls to reach their highest potential.
Our branch serves the Saddleback Valley area with a membership that stretches from Irvine to San Clemente, Laguna Beach to Rancho Santa Margarita, and all points in-between.




WE ARE ACTIVELY RECRUITING NEW MEMBERS.
Please help us by reaching out to friends and asking them to join
AAUW Mission Viejo/Saddleback Valley
Contact co-presidents Martha Uriarte,

marthauriarteusa@hotmail.com

 and/or  Karen Dennis, Co-President, aauwmvsv@gmail.com.

AAUW MV/SV website: https://mvsv-ca.aauw.net
Our Facebook page is AAUW MV-SV.
https://www.facebook.com/AAUW-MV-SV-1590767511200705/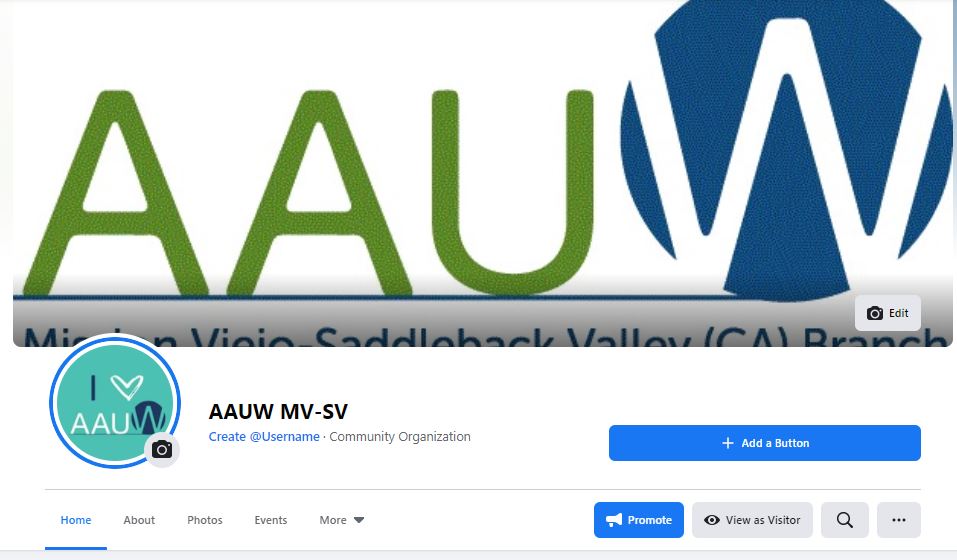 Learn to successfully advocate for yourself — and help close the pay gap for women everywhere.
Dear AAUW Mission Viejo/Saddleback Valley members,
During this time of social distancing, we want to stay connected and keep you up-to-date. We're here to support, inspire, and share how to make the best of the situation, day in and day out.
The wellbeing and safety of our members remain our top priority, so we will be postponing our social gatherings (monthly meetings, books clubs, leadership meetings, lunch bunches, wine and mingle, nature walks, etc.) until further notice.
We are exploring videoconference solutions to stay in touch, and please keep an eye on upcoming emails detailing our latest events.
If you have any questions, need assistance with grocery delivery, picking up prescriptions, transportation, etc. Please feel free to reach to your branch members or me, and I'll be more than happy to be of assistance.
At your service,
Elizabeth Busick, and Martha Uriarte
– AAUW Mission Viejo-Saddleback Valley – CO-Presidents –
aauwmvsv@gmail.com
Our Co-Presidents are Elizabeth Busick (5th from the left), and Martha Uriarte, (6th from the left in black)
The secretary is Bonnie Elconin who is the 8th from the left, and I am treasurer, 7th from the left.


Check our current Motivator – Branch Newsletter…JULY Motivator.
Upcoming Branch Events…

Date/Time

Event

Location

August 7 @ 11 a.m. – 3 p.m.

(Saturday)

Dr. Willella's Impact: A Walk Through her 19th Century World at 

The Santa Ana Historical Preservation Society

Please RSVP to Karen D.

August 3 @ 6:30 p.m.

(Sunday)

MOVIEGOERS

 The movies for August are:

Red Joan, The Pick of the Litter, and 

The Founder.

All may be viewed on Netflix.

Contact Elaine S. for the Zoom link or Marcia M.

August 9 @ 10 a.m.

(Monday)

Morning Book Group

The book is The Whisper Network, written by
Chandler Baker, and the discussion will be led by Kathie Y.

Please RSVP to Kathie Y.. 

September 18 @ 9:30 a.m.

(Saturday)

ANNUAL MEMBERSHIP MEETING

At Marcia M'S home.

Questions and Links please contact Karen D. or Martha Uriarte 

October 30 @ 9 a..m. to Noon

(Saturday)

STOP Human Trafficking Event

Mission Viejo Community Center

Please RSVP to Karen D.

December 12 @ 5 p.m.

(Sunday)

HOLIDAY PARTY

Please check your email. Questions and Zoom Link please contact Marcia M, Karen D., or Martha Uriarte 

February 2022

Dual meeting with SC/CB at Saddleback College

Please check your email. Questions and Links please contact Martha Uriarte 

March 2022

Women's History Month

April 23, 2022 

(Saturday)

AAUW CA Convention –

Via Zoom

Contact Karen D. for REGISTRATION and  Zoom link.

February 24 (Wednesday) at 7:00 pm on Zoom.

AAUW CA Webinar on "She Who Thrives




Survives"

 Register by going to aauw-ca.org for the link if one is not sent to you




in early February.

June 2022

Scholarship Luncheon

Please contact Martha Uriarte for details for the link


at

marthauriarteusa@hotmail.com

.

July 2022

Leadership Council Retreat

Please contact Matha Uriarte at

marthauriarteusa@hotmail.com
August 7, 2021 Flyer…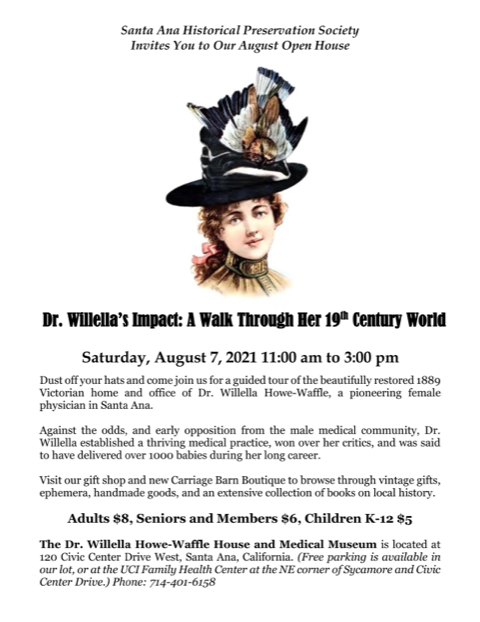 AAUW Fiscal Year:  July 1st, 2021 to June 30, 2022
The November 2019 issue of our newsletter is online! Visit our Members Only section to view the latest issue.
2021- 2022 MVSV OFFICERS
Presidents Council: Martha Urinate and Elizabeth Busick
Treasurer: Karen Dennis
Secretary: Bonnie Elconin
Update of accomplishments:
Moving forward with our Zoom meetings…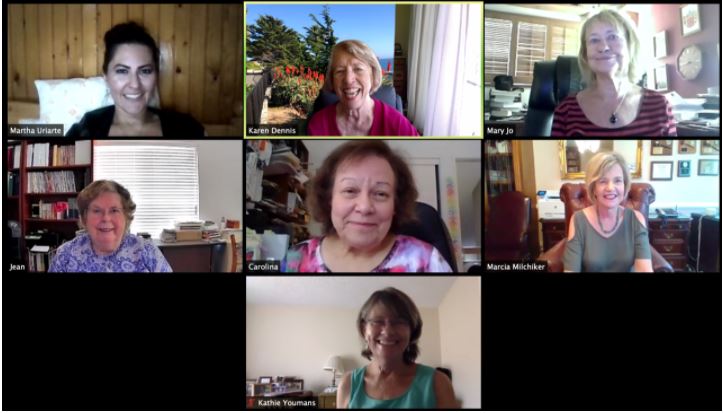 Many thanks to our members-attendees.

Succesful event sponsored by AAUW Mission Viejo and the Mission Viejo Chamber of Commerce about:
"Stop Human Trafficking"

on Saturday, February 22 at the Norman P. Murray Senior Center in Mission Viejo.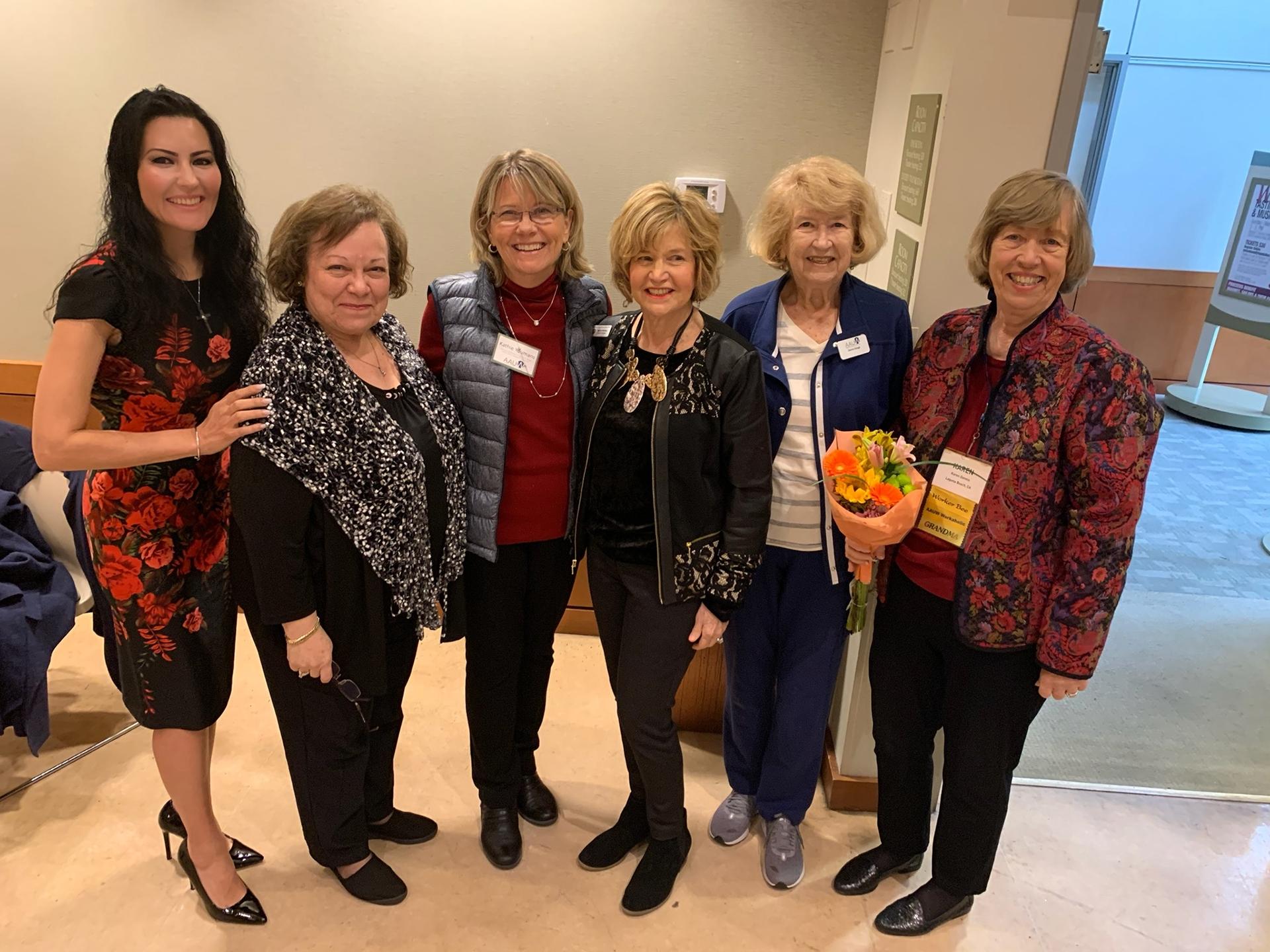 John Salamy, Director of Events for the Mission Viejo Chamber of Commerce; John Zielasko, CEO of the Chamber; Lauri Burns, panelist from Vera's Sanctuary and The Teen Project; Trish Kelley, City of Mission Viejo Council Woman; Karen Dennis, Co-President of AAUW MV/SV; Dr. Sandra Morgan, panelist and Director of the Global Center for Women and Justice and member of the White House Public-Private Partnership Advisory Council to End Human Trafficking; Kathie Perino, Anti-Human Trafficking Initiative of Saddleback Church; Marcia Milchiker, Co-President of AAUW MV/SV and South Orange County Board of Trustee.  Not pictured is Jeff Jensen, who was excellent by the way.
Donna Gough announced that AAUW – Mission Viejo will benefit 4 Middle School girls by covering expenses to attend the 2021 Virtual Tech Trek.
Tech Trek is a STEM (Science, Technology, Engineering, Math) camp designed to develop
interest, excitement, and self-confidence in young women who will enter eighth grade in the fall. It features hands-on activities in STEM-related fields. All sleeping, eating, instructional and
recreational facilities are located on a university campus where camps are held.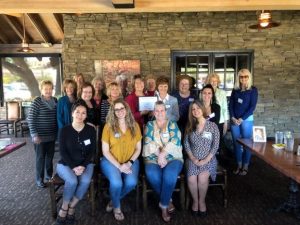 The Scholarship Luncheon in June, chaired by Carolina Tercero, for the
End of the Year Celebration to honor scholarship recipients.
(front) Osher Recipients: Nazanin Arjomandr-Nejad, Fabiane Muniz-Penny,
Leslie Toice, and Fereshteh Younesi,
(middle) Lisa, Marcia, Carolina, Mary Jo, and Kathie and Betty who are holding the Certificate
from AAUW CA congratulating us on our 40th Anniversary of the Founding of the Branch, and
Martha Uriarte, Membership Outreach Chair (back) Karen Dennis, Dawn, Elaine, Rachel Maus
(Scholarships Chair), Jean, Donna, and Karen Lewis.

On May 20, 2019
Martha Uriarte was sworn in by Board Vice President Timothy Jemal during the Board of Trustees meeting on May 20, to serve as the South Orange County Community College District's new Student Trustee for the 2019 2020 academic year.
Martha, a second-year Saddleback College student studying international business, officially assumes this role after being elected by her peers
Martha is a member of the Saddleback College chapters of Alpha Gamma Sigma, Phi Theta Kappa, Psi Beta, and the American Association of University Women (AAUW).
Upon graduation, she plans to transfer to California State University, Fullerton or Pepperdine University.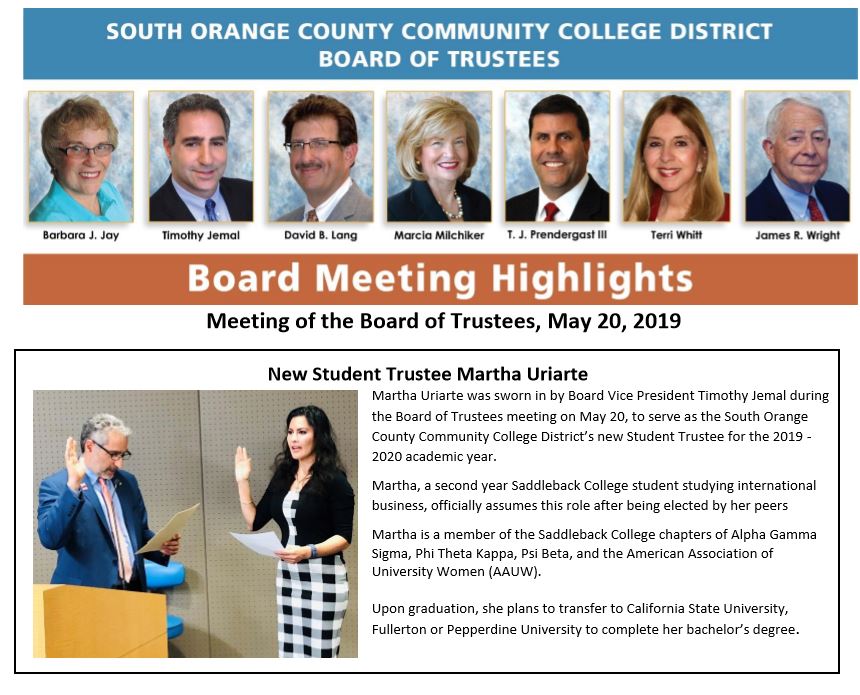 Past events 2019:
Friday, August 30  @ 4:30 p.m. AAUW Mission Viejo/Saddleback Valley Marketing Plan
O'Neill's Bar and Grill, Mission Viejo

Sunday, September 22

@ 3:00 p.m. 
"Shape the Future Membership Drive"
Marcia Milchiker Residence
RSVP:  Marcia at

mmilchiker@cox.net

Saturday, October 12 from 11 a.m. to 1 p.m. 40th Year Celebration
Claim Jumper Restaurant – RSM
RSVP: Elaine at jschnitter@cox.net

December 3 Is a Day of Giving Scholarships
In keeping with our mission of advancing gender equity in the lives of women and girls through research, education, and advocacy, our branch gives two types of scholarships to women from Saddleback College each year.
Kindly sent your 100% tax-deductible to the Saddleback College Foundation,
28000 Marguerite Parkway, Mission Viejo, CA 92692. MEMO LINE: AAUW MV/SV


FIFTY YEARS LATER "Relive the excitement" of the Apollo 11
Many thanks to Carolina Tercero who promoted this outstanding educational program for us. Carolina and Marj Besemer, of OLLI, worked together on the publicity.
Happy Holidays and I hope to see you on December 8th at the Holiday Dinner Party.

AAUW Mission Viejo/Saddleback Valley 
"REMEMBERING THE PAST & SHAPING THE FUTURE" 
Wonderful memories of our
40th Anniversary 
Celebrated at  Claim Jumper Restaurant – RSM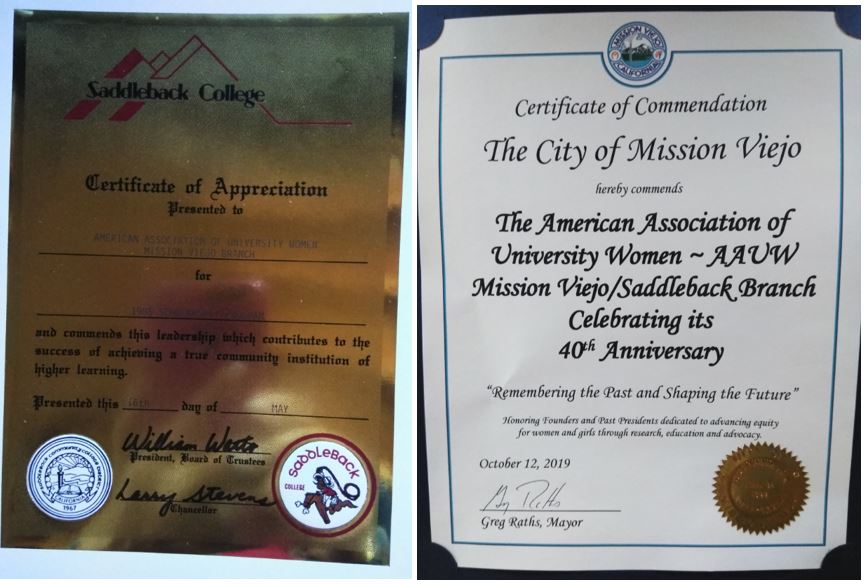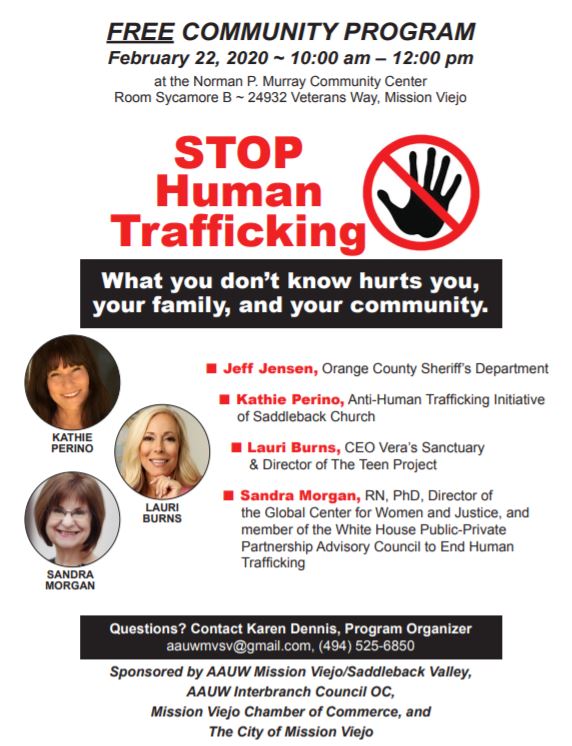 Questions?
Co-Presidents, 2019 – 2020