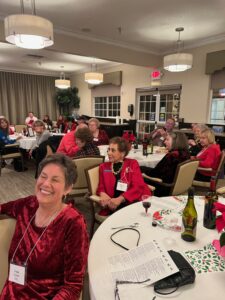 SPECIAL PROGRAM in December
December 3 (Sunday)
5:30 pm Social –  Potluck Dinner by 6:00
Live Entertainment with Mick & Diane, Sing Along, Line Dancing, Lots of Laughter

 
Contact Us about Information to Attend Our Exciting Upcoming Branch Programs:
Book Banning and Censorship

Women's Health and Nutrition

Celebrating Women Scholarships

Women's History Month

Scholarship Luncheon
Interest Groups 
AM BOOKS

Cultural Events/Tours

Gourmet Dinners

Lunch Bunch

Movie Goers  (on Zoom)

Nature Walkers
For more information and location, email aauwmvsv@gmail.com

Our branch serves the Saddleback Valley area with a membership that stretches from Irvine to San Clemente, Laguna Beach to Rancho Santa Margarita, and all points in-between.
WE ARE ACTIVELY RECRUITING NEW MEMBERS.
Please help us by reaching out to friends and colleagues and asking them to join.

AAUW MV/SV website: https://mvsv-ca.aauw.net
Email:  AAUWMVSV@gmail.com 
 LEADERSHIP COUNCIL 2023 – 2024
Karen Lewis, Carolina Tercero, Bonnie Elconin, Marsha Richter, Marcia Milchiker, Mary Jo Cumming, and Elizabeth Busick. Not pictured are Karen Dennis, Lee Winocur Field, and Wendy Levine.