Welcome to the AAUW Mission Viejo-Saddleback Valley Branch!

Mission:  Advancing gender equity for women and girls through research, education, and advocacy.

Value Promise: By joining AAUW, you belong to a community that breaks through educational and economic barriers so that all women and girls have a fair chance.

Vision Statement: AAUW empowers all women and girls to reach their highest potential.

Our branch serves the Saddleback Valley area with a membership that stretches from Irvine to San Clemente, Laguna Beach to Rancho Santa Margarita, and all points in-between.

May Program….               Dr Trinh Flyer PDF

This is an AAUW MV/SV "Shape the Future" event.

New members or those whose memberships have lapsed for 2 or more years can join at a greatly discounted rate if they attend this program and join.

For Zoom link and details, contact Karen Dennis,

aauwmvsv@gmail.com

Discounted Membership Form: Membership FORM 2022 – 2023 Membership

President's Message by Elizabeth Busick         
May Is Older Americans Month, and June 23rd is the 50th Anniversary of Title IX.
I have asked the Mission Viejo City Council to make a proclamation at the June 14th Mission
Viejo City Council meeting. I hope to see you on Zoom on May 19 when Dr. Trinh speaks to us at 3:00 pm on health issues affecting seniors, and I look forward to seeing you in person on June 4th at 11:30 am at the Claim Jumper for the Scholarship Luncheon being organized by Carolina Tercero. Please SAVE THESE DATES!

WE ARE ACTIVELY RECRUITING NEW MEMBERS.
Please help us by reaching out to friends and asking them to join
AAUW Mission Viejo/Saddleback Valley
Contact President

Elizabeth Busick

:  aauwmvsv@gmail.com

AAUW MV/SV website: https://mvsv-ca.aauw.net
Our Facebook page is AAUW MV-SV.
https://www.facebook.com/AAUW-MV-SV-1590767511200705/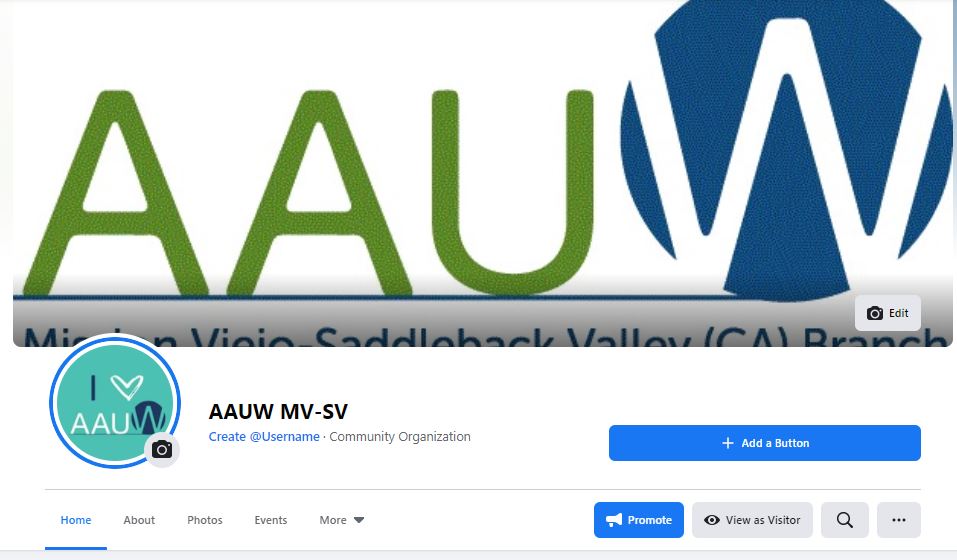 Learn to successfully advocate for yourself — and help close the pay gap for women everywhere.
Dear AAUW Mission Viejo/Saddleback Valley members,
My name is Elizabeth Busick, this fiscal year 2021-2022 we'll be leading our Brach. Many thanks for all the member's support and we look forward to working effectively to organize activities of interest fulfilling our AAUW Mission, Vision, and goals.
This is a wonderful year, full of possibilities and we are finally able to meet in person again. Thank you for renewing your support to our local branch, donating generously to promote gender and pay equality, and supporting our local girls and women in their pursuit of higher educational goals and STEM careers.
At your service,
Elizabeth Busick
– AAUW Mission Viejo-Saddleback Valley – President –
aauwmvsv@gmail.com
Our President is Elizabeth Busick (5th from the left), member Martha Uriarte, (6th from the left in black)
Our secretary is Bonnie Elconin who is the 8th from the left, and our treasurer Karen Dennis, 7th from the left.

AAUW Fiscal Year:  July 1st, 2022 to June 30, 2023
2022- 2023 MVSV OFFICERS
Presidents Council: Elizabeth Busick
Treasurer: Karen Dennis
Secretary: Bonnie Elconin

Inquire about our monthly newsletter: The Motivator
The event's Zoom link will be sent to your e-mail ahead of the beginning of events.
Contact Karen D. for more information or questions.
Events Calendar

May 20, 2022

@ 3 p.m.

(Friday)

Scholarship Awards Ceremony

Saddleback College Foundation

Saddleback College, Science Building Courtyard.

28000 Marguerite Pkwy, Mission Viejo, CA 92692.

Free Parking in Lots 5/5A.

May 20, 2022

@ 5:30 p.m.

(Friday)

Gourmet Dinner

The Dietrich Residence

Please RSVP to Jean or Karen:

May 26, 2022

@ 5:00 p.m.

(Thursday)

Wine and Whine

O'Neill's Bar and Grill @ the Arroyo Trabuco Golf Club

Please RSVP to Karen:

June 1, 2022

9:15 a.m.

(Wednesday)

Gadabouts

A Trip to the Historic Town of Julian

Please RSVP to Joy  at:

June 11, 2022

@ 11:30 a.m.

(Saturday)

Annual Scholarship Luncheon

Claim Jumper in Mission Viejo

Honoring our 2022 Award Winners!

Please RSVP to Karen:

September 8, 2022

ALL-DAY

(Thursday)

International Literacy Day

Info link:

https://www.aauw-ca.org/event/international-literacy-day/?instance_id=261

September 21, 2022

ALL-DAY

(Wednesday)

International Day of Peace

Info link:

https://www.aauw-ca.org/event/international-day-peace/?instance_id=251

October 2, 2022

ALL-DAY

(Sunday)

International Day of Non-Violence

Info link:

https://www.aauw-ca.org/event/international-day-non-violence/?instance_id=312

October 5, 2022

ALL-DAY

(Wednesday)

World Teachers' Day

Info link:

https://www.aauw-ca.org/event/world-teachers-day/?instance_id=241

October 11, 2022

ALL-DAY

(Tuesday)

International Day of the Girl Child

Info link:

https://www.aauw-ca.org/event/international-day-girl-child/?instance_id=231

November 25, 2022

ALL-DAY

(Friday)

International Day for the Elimination of Violence against Women

Info link:

https://www.aauw-ca.org/event/international-day-elimination-violence-women/?instance_id=221

December 10, 2022

ALL-DAY

(Saturday)

Human Rights Day

Info link:

https://www.aauw-ca.org/event/human-rights-day/?instance_id=211