Mission:  Advancing gender equity for women and girls through research, education, and advocacy.
Value Promise: By joining AAUW, you belong to a community that breaks through educational and economic barriers so that all women and girls have a fair chance.
Vision Statement: AAUW empowers all women and girls to reach their highest potential.
Our branch serves the Saddleback Valley area with a membership that stretches from Irvine to San Clemente, Laguna Beach to Rancho Santa Margarita and all points in-between.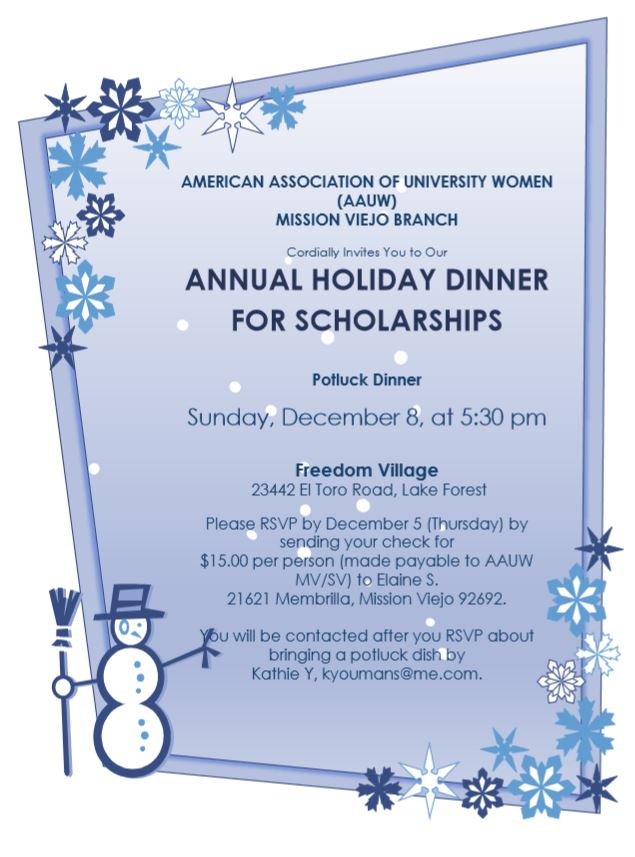 December 3 Is a Day of Giving Scholarships
In keeping with our mission of advancing gender equity in the lives of women and girls through research, education, and advocacy, our branch gives two types of scholarships to women from Saddleback College each year.
Kindly sent your 100% tax-deductible to the Saddleback College Foundation,
28000 Marguerite Parkway, Mission Viejo, CA 92692. MEMO LINE: AAUW MV/SV


FIFTY YEARS LATER "Relive the excitement" of the Apollo 11
Many thanks to Carolina Tercero who promoted this outstanding educational program for us. Carolina and Marj Besemer, of OLLI, worked together on the publicity.
Happy Holidays and I hope to see you on December 8th at the Holiday Dinner Party.

AAUW Mission Viejo/Saddleback Valley 
"REMEMBERING THE PAST & SHAPING THE FUTURE" 
Wonderful memories of our
40th Anniversary 
Celebrated at  Claim Jumper Restaurant – RSM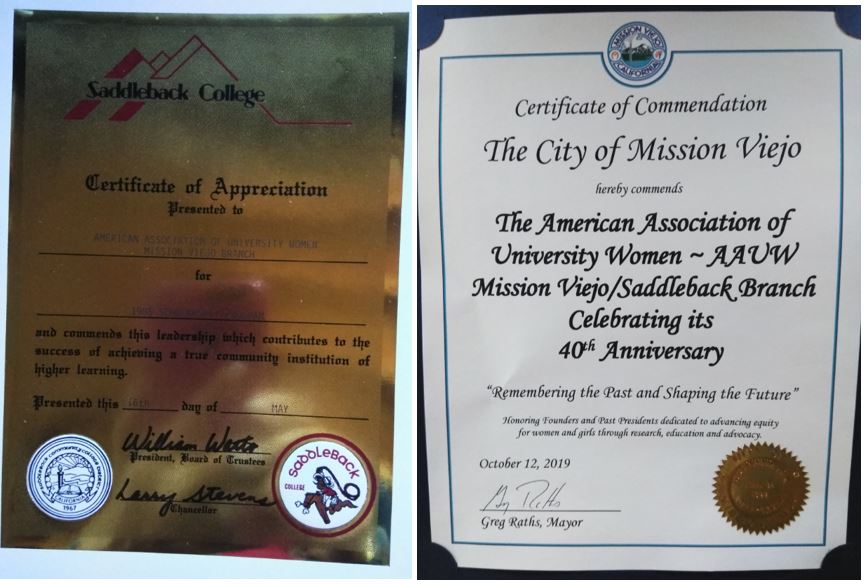 Questions?
Co-Presidents, 2019 – 2020
Upcoming Branch Events…

Date/Time

Event

Location

Dec 8

FROM 5: 30 – 7:30 P.M.

AAUW Mission Viejo/Saddleback Valley Annual Holiday Party 

and T

ech Trek Scholarship Fund

RSVP:  Kathie at

kyoumans@icloud.com

Saturday, Jan 18. 2020

Women's March

RSVP:  Martha Uriarte at

marthauriarteusa@hotmail.com

Feb 22,  2020

from 10 a.m. to noon

Human Trafficking Program

Location Norman P. Murray Center

RSVP:  Karen at

karendennis@mac.com

Monday to Friday, March 16 – 20

Women's History Week

Series of events, speakers, presentations, awareness, and historical recognition of women's efforts,

Saddleback College, IVC and The Women's Journey Foundation.

RSVP:  Martha Uriarte at

marthauriarteusa@hotmail.com

Saturday, March 21

from 9 a.m. – 1 p.m.

Great American Write-In

Delhi Center in Santa Ana, CA

RSVP:  Karen at

karendennis@mac.com

Thursday to Sunday

April 16 – 19

AAUW State Convention

RSVP:  Martha Uriarte at

marthauriarteusa@hotmail.com

April

Happy Hour

Recruitment event

May

Members Tea Time

Recruitment event

May 2020

Mother's Day Brunch

RSVP:  Karen at

karendennis@mac.com

Saturday,  June 6, 2020

Scholarship Luncheon

RSVP:  Karen at

karendennis@mac.com

July 2020

Leadership Retreat

RSVP:  Martha Uriarte at

marthauriarteusa@hotmail.com
AAUW Fiscal Year:  July 1st, 2019 to June 30, 2020
The November 2019 issue of our newsletter is online! Visit our Members Only section to view the latest issue.
2019- 2020 MVSV OFFICERS
Presidents Council: Karen Dennis & Marcia Milchiker
Treasurer: Jean Dietrich
Secretary: Mary Jo Cumming
Leadership Council: Carolina Tercero
Membership Outreach Chair: Martha Uriarte 
Update of accomplishments:
Donna Gough announced that Natalie La is our Tech Trek winner for 2019.
She will be attending a science camp at UCI that starts
on July 7, and we will hear more about this exciting week in September.
Tech Trek is a STEM (Science, Technology, Engineering, Math) camp designed to develop
interest, excitement, and self-confidence in young women who will enter eighth grade in the fall. It features hands-on activities in STEM-related fields. All sleeping, eating, instructional and
recreational facilities are located on a university campus where camps are held.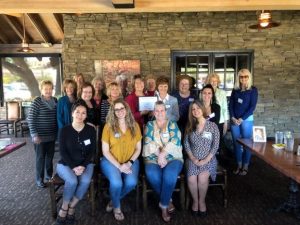 The Scholarship Luncheon in June, chaired by Carolina Tercero, for the
End of the Year Celebration to honor scholarship recipients.
(front) Osher Recipients: Nazanin Arjomandr-Nejad, Fabiane Muniz-Penny,
Leslie Toice, and Fereshteh Younesi,
(middle) Lisa, Marcia, Carolina, Mary Jo, and Kathie and Betty who are holding the Certificate
from AAUW CA congratulating us on our 40th Anniversary of the Founding of the Branch, and
Martha Uriarte, Membership Outreach Chair (back) Karen Dennis, Dawn, Elaine, Rachel Maus
(Scholarships Chair), Jean, Donna, and Karen Lewis.

On May 20, 2019
Martha Uriarte was sworn in by Board Vice President Timothy Jemal during the Board of Trustees meeting on May 20, to serve as the South Orange County Community College District's new Student Trustee for the 2019 2020 academic year.
Martha, a second-year Saddleback College student studying international business, officially assumes this role after being elected by her peers
Martha is a member of the Saddleback College chapters of Alpha Gamma Sigma, Phi Theta Kappa, Psi Beta, and the American Association of University Women (AAUW).
Upon graduation, she plans to transfer to California State University, Fullerton or Pepperdine University.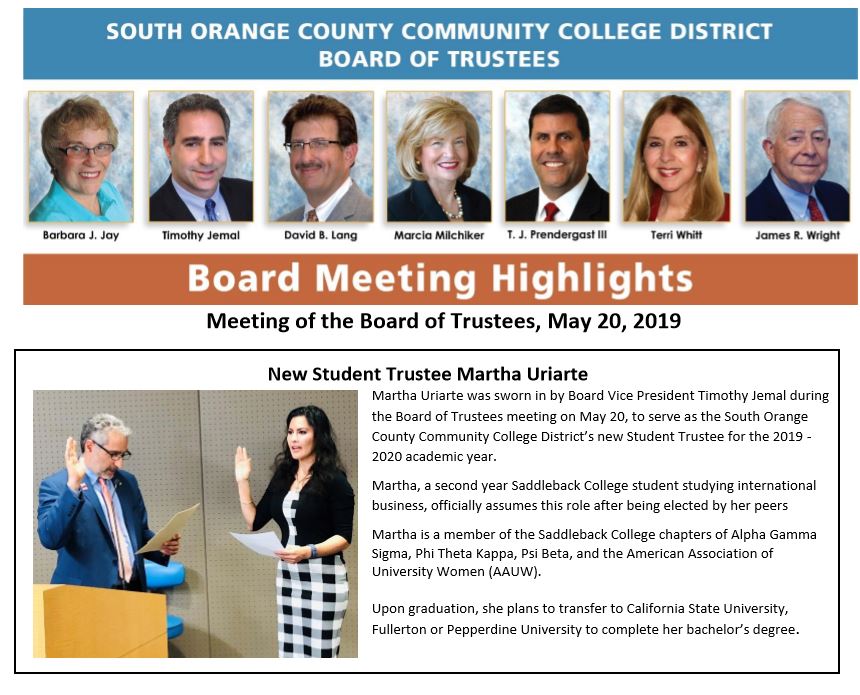 Past events 2019:
Friday, August 30  @ 4:30 p.m. AAUW Mission Viejo/Saddleback Valley Marketing Plan
O'Neill's Bar and Grill, Mission Viejo

Sunday, September 22

@ 3:00 p.m. 
"Shape the Future Membership Drive"
Marcia Milchiker Residence
RSVP:  Marcia at

mmilchiker@cox.net

Saturday, October 12 from 11 a.m. to 1 p.m. 40th Year Celebration
Claim Jumper Restaurant – RSM
RSVP: Elaine at jschnitter@cox.net